6th Annual Market Street Community Block Party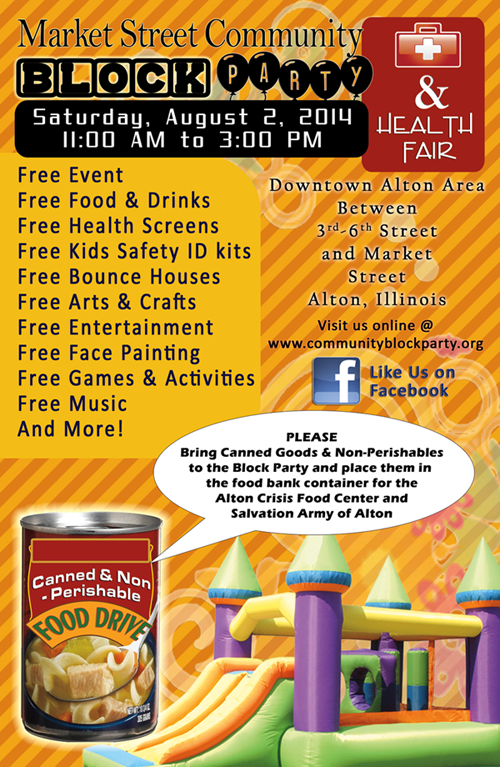 The Market Street Community Block Party & Health Fair serves to promote a fun and positive way for people in the Alton River Bend area to connect and build stronger, safer, and a more cohesive community. This event is free and open to the general public.
This is our 6th year hosting this event. Our first year, we started with the partnership of two organizations and had an attendance of about 80-100 people. This year we have the support from over 50 partners and sponsors and we anticipate between 900-1000 people to attend.
We are encouraging more businesses and organizations to join us in our efforts.
The event will take place Saturday, August 2, 2014 from 11:00 – 3:00 PM on Market Street between 3-6 street with additional indoor activities at the Salvation Army and First Presbyterian Church located on Alby Street.
Come and enjoy free inflatable bounce houses & slides, craft activities, food, soda, music, and more for entire family, it's the Market Street Community Annual Block Party.
It's a community get together where you'll find hundreds of smiling faces, children, adults, and families having fun and getting to know one another.
This event is free and open to the public.
The Block Party will be held on Saturday, August 2, 2014 between 3rd and 6th Street and Market Street in Alton, Illinois. Click on the the directions link above to get directions.